You will LOVE Carrick Ryan!!! #BreakTheRules #ToTheLimit


♥ BUY THE BOOK ♥
Revved will be on SALE during RELEASE WEEK ONLY for $2.99!!!!
Race car mechanic Andressa "Andi" Amaro has one rule—no dating drivers. With a good reason behind the rule, she has no plans on breaking it.
Carrick Ryan is the bad boy of Formula One. With a face and body that melts panties on sight, and an Irish lilt that leaves women on their knees, begging for more. He races hard and parties harder. The youngest driver to ever sign with F1, he's still at the top of his game five years later, breaking hearts on and off the tracks.
When Andi is offered her dream job working in the glamorous world of F1, she leaves her home in Brazil, positive she can handle working for Carrick. But she's not prepared for the off-the-chart sparks that fly the moment they meet.
Now, Andi has a crush on the one man she can't have, and her resolve is about to be put to the test, because Carrick has decided he wants Andi, and he plans on testing her to the very limit…



"Come on…just one piece of bacon."
"No." I move my plate toward me, and away from him.
"Aww, come on, baby. You know you wanna give me some."
I feel that word wash through me like an erotic cleansing.
Pressing my thighs and lips together, I shake my head. "Nope. Your smooth Irish charm won't work on me."
Grinning, he gives me a look straight from the sex devil. "Aww, Andressa. Baby. If you give me some…I'll make it worth your while. It can be our little secret. I won't tell anyone, I promise."
"How do you manage to make a conversation about bacon sound dirty?"
"I'd say it's a talent…but maybe it's not me that's dirty and it's you. After all, you are the one interpreting it that way."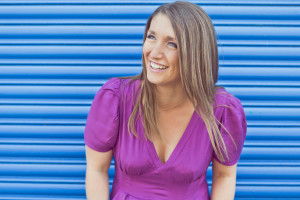 New York Times, USA Today, Wall Street Journal and international bestselling author Samantha Towle began her first novel in 2008 while on maternity leave. She completed the manuscript five months later and hasn't stopped writing since.
She has written contemporary romances, THE MIGHTY STORM, WETHERING THE STORM, TAMING THE STORM and TROUBLE.
She has also written paranormal romances, THE BRINGER and the ALEXANDRA JONES SERIES, all penned to tunes of The Killers, Kings of Leon, Adele, The Doors, Oasis, Fleetwood Mac, and more of her favourite musicians.
A native of Hull and a graduate of Salford University, she lives with her husband, Craig, in East Yorkshire with their son and daughter.



Facebook
|
Twitter
|
Website
|
Goodreads
Wendy's 5 Bare Naked Star Review
While Samantha Towle was writing this book, she kept it a secret, well it's a secret no longer. Carrick Ryan is out of the bag, so to speak and how very jolly nice he is too.
He's a Formula One race car driver, he's hotter than a hot thing, has a flirty, dirty mouth and he is Irish, now do I have your attention ladies? Because he certainly had mine.
When Carrick meets Andi, he immediately initiates a charm offensive, but he can't understand why this stunning beauty before him is so determined to resist his many charms, woman don't usually put up a fight, if you know what I mean.
Lifting his eyes back to mine, he gives me a confident smile. "Amazing arse. Great stems. Awesome rack. Beautiful face. Yep" – he nods – "you're definitely my type"
The more she puts up her defences the more he seems to fall for her. And he certainly did all the running.
I'm quite happy to sit back and watch his delicious arse bent over the car. "Seriously, I fell like a piece of meat with the way you're ogling me from back there." His voice comes from under the hood of the car.
I loved the playful chemistry between Carrick and Andi, while they tried to be friends, they were funny and teased each other, I laughed a lot at these scenes, particularly at the British humour which we don't see in these kind of books very often. But then as feelings become obvious their relationship becomes tricky and Carrick behaves like a dick, I wanted to slap his delicious Irish arse.
I loved that Carrick wore his heart on his sleeve and I was equally frustrated with Andi's secrets and reluctance to trust him with her heart, although somewhat understandably she was frightened to commit herself to him, but her actions resulted it heartache all round
This story was easy to get lost in, Carrick is a serious contender for your book boyfriend favourites, he has certainly become one of mine.
Congratulations Samantha Towle, a great story.
The author is giving away
• 1 - $50 Amazon Gift Card (US)
• 1 - $50 £ (pound) Amazon Gift Card (UK)
• 3 signed paperbacks of REVVED (open international)
a Rafflecopter giveaway