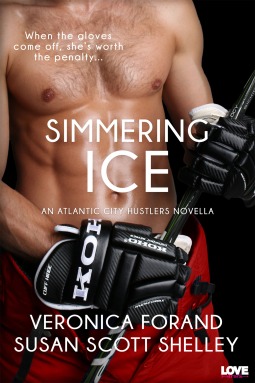 When the gloves come off, she's worth the penalty...
Physical therapist Annie Davidson is great at her job but unlucky when it comes to love. She's just out of a bad relationship. A really bad relationship. All she can do is focus on work...that is until she runs into professional hockey player Alec O'Meara. She's a touch insecure and doesn't understand why he's interested in her.
Despite being one of the biggest players on the team, right winger Alec O'Meara prefers finesse over force. After the tragic death of his wife, he likes to keep things loose on and off the ice. But the red-headed Annie challenges his beliefs and makes him think about taking their relationship to the net.
The passion and fun they share is addicting and makes them long for more. But her insecurities that she's not good enough, and his anxiety over a long-term commitment will keep them apart, unless they can find a way to break through the defenses they've built around their hearts.
Excerpt:
"The first one to reach twenty points wins."
"What's the prize?"
His eyes heated. "The winner gets to decide."
A stab of awareness lanced through her. She grabbed a ball, dribbled down the court, and executed a perfect lay-up.
Alec jogged to her side. "Nice moves." He ran a fingertip down the side of her face then knocked the ball out of her hands and took off down the court.
"That's not very sportsmanlike," she called after him and raced to catch up. The ball swooshed through the net.
"Three pointer." He grinned and caught the rebound. The muscles in his back and arms bunched with every dibble.
Alec's big body blocked hers. She reached around him and managed to knock the ball free. Elbowing him in the ribs, she attempted to regain possession.
It slipped from his grip too easily. She stopped moving. "Are you going easy on me? If you think you're going to let me win…."
"You kidding? No way. I already know what I want as a prize."
"Good." She gave him a sweet smile, then pounced and snagged the ball. Sneakers squeaked against the polished wood floor as they raced back and forth, their bodies bumping together when they reached each basket.
As the points mounted, her body heated and sweat trickled down her back. Alec may have been a seasoned athlete, but in addition to her weekend basketball league, she kept herself in shape with regular runs on the beach.
A whistle exited his lips, and he wiped sweat off of his forehead. "You're good."
She watched the ball sail into the net. Fifteen points for her. "Thanks."
"But I play to win." He gently nudged her side, and the ball bounced out of her hands.
"Hey."
He held the ball high over his head. "Think I'm still going easy on you?"
Holding back a laugh, she launched herself at the ball. The tips of her fingers brushed the dimpled surface, and then met the soft material of Alec's shirt. "That's not playing fair."
"No?" With a sharp pivot, he jumped and arced the ball through the air. It bounced off the backboard, then rolled around the rim and fell through the net in another three-pointer. He pumped his fist in the air. "That's twenty points. I win."
"Congratulations. So, what do you want as your prize?"
He dropped the ball, and it rolled across the court. Warm hands cupped her face. His thumb brushed her cheek. "This," he murmured and lowered his head toward hers.
Firm lips coaxed hers apart, and his tongue traced the line of her lips before diving inside to dual with hers. Annie grasped his biceps and hung on as her system went on overdrive. Seeking more, she rose onto her toes and leaned into him.
With a low growl, Alec slid his hands to tangle in her hair. He deepened the kiss. Everything faded but the feel of his mouth on hers and the heat of his body against her own.
After a long moment, she angled her head away and slipped her arms around his waist.
His muscles tightened at her touch.
"I want a rematch." She almost didn't recognize her own voice, pitched lower and breathless.
"Any time. Anywhere." The whispered words trailed over her skin, and she didn't care at all about keeping score.
Amazon US: http://amzn.to/1JFkYME
Amazon UK: http://amzn.to/1OWIcxW
We meet Annie, a physio, and Alec, the Hustlers' star player and a favourite of the ladies, at the start of the book when they are both single and fighting their own personal demons. Recently widowed and not yet ready to find love again, Alec spends all his time training for his ice hockey matches and hanging out with the guys, and dating beautiful women. None of these dates last long before he moves onto the next one.
Annie loves her job as a physio therapist, helping children back on their feet after accidents and illnesses. A keen athlete, she lives alone in a dilapidated house that she rents from a very old friend. On the outside, Annie appears confident and together, but with constant put downs and messages of disapproval from her mother, she battles with feelings of not being good enough.
As part of the teams plans to raise the profile of their players, Alec and his teammates frequently visit the unit that Annie works in an attempt to inspire the youngsters to get back on their feet, and it is here that Alec first lays eyes on the pretty red head that seems to tug at his heart strings as well as remind him of his late wife with...
Cue heartwarming "girl meets boy love story"
with a happy ending.
This little romance takes us on a ride where things don't always go to plan. Met with disasters and hiccups, Alec and Annie grow closer and find themselves falling in love.
Forand and Scott Shelley's
writing style is simple and easy to read, although the dialogue was often confusing due to a distinct lack of tag lines and also no formatting, therefore it was sometimes difficult to follow parts of the story without reading back or reading ahead. The secondary characters were a little 2D. However, the parts they played helped to move the story along. I felt that some scenes were a little unrealistic, particularly ones concerning Annie's mother. Despite this, I did enjoy reading it and loved Alec's devotion to the contrastingly insecure character of Annie.
Susan Scott Shelley
Susan Scott Shelley is an award-winning author of contemporary romance and romantic suspense who spends her days writing about tough heroes, smart heroines, and love being the strongest magic there is.
For as long as she can remember, she has been in love with Love, and the sweeping grand gestures, heart-sighing moments, fiery passion, and quiet comforts it entails.
In addition to writing romances, she is also a profession voice over artist. Her favorite things include running, sports (especially football and hockey), hard rock and old Hollywood movies. She resides outside Philadelphia with her very own Superhero and believes life should be lived with laughter, enthusiasm, and a sense of wonder.
Stalk Susan Scott Shelley
Veronica Forand
Veronica Forand is an attorney and an award-winning writer of romantic suspense. She's lived in Boston, London, Paris, Geneva, and Washington, DC and currently resides near Philadelphia. An avid traveler, she loves to roam across continents with her husband and kids in pursuit of skiing, scuba diving, and finding the perfect piece of chocolate.
She's lived in London, Paris, Geneva, Washington D.C., and the accent destroying city of Cleveland. She currently resides near Philadelphia.
Stalk Veronica Forand: